Welcome to Homeschool Curriculum Reviews

As a veteran homeschooling mom, I have discovered many helpful tools along the way. With Homeschool Curriculum Reviews my goal is to let you know about products that will make your homeschooling journey smoother and more rewarding.
I know as parents we are all looking for ways to improve the education of our children and engage their minds. I am always looking for practical homeschool resources to make the learning process fun and interesting.
Since we are still homeschooling after fourteen years (three of our homeschooled students have graduated and our youngest child is still homeschooling and is in high school), I am continuing to find great materials and homeschool courses that I am excited about. Let's have some fun as we discover some great resources!
Find HOMESCHOOL REVIEWS on FACEBOOK!
Grade School:
High School: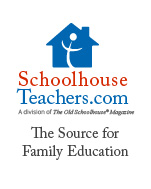 AFTER SEVERAL YEARS THIS SITE IS GETTING A NEW LOOK! WE APPRECIATE YOUR PATIENCE AS WE STRIVE TO MAKE HOMESCHOOL CURRICULUM REVIEWS BETTER THAN EVER! THANKS FOR YOUR CONTINUED SUPPORT.